As the morning mist settles around the jungle-topped karsts of Khao Sok National Park, it's mistakable for Vietnam's Halong Bay, Borneo's Sarawak or Guilin in China. Millions of years ago, they were all connected, as part of a continent-straddling coral reef. Plates then collided, creating the Himalaya, which crumpled, folded and separated the landscape around them.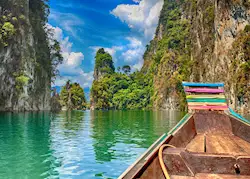 Khao Sok has remained one of the most intact, untouched parts of this ancient landscape. In fact, it's believed that the thick dipterocarp and bamboo jungle you can walk through today constitutes one of the world's oldest rainforests, dating back 160 million years.
Take a guided hike through Khao Sok and you'll step over liana vines thicker than a bodybuilder's thigh, around towering buttress roots and under heavily laden fig trees. This is the only place in Thailand where the rare rafflesia, the world's largest (and smelliest) flower grows. Leafless, stemless and rootless, the parasitic plant depends upon a single species of vine as its host.
Khao Sok is also thick with bamboo groves, wild bananas and clusters of pitcher plants. With such dense foliage, you'll need patience to spot the park's fauna. Malayan sun bears, leopards and some of Thailand's last tigers live here, but sightings are incredibly rare.
Instead, look to the trees. You might spot one of nine types of hornbill, along with serpent eagles, ospreys or one of the many vivacious sunbird or kingfisher species. The call of the gibbon regularly carries through the trees, and at night there's a crescendo of noise from frogs, crickets and cicadas.
The main feature of the park is Cheow Larn Lake, a product of the damming of the Pasaeng River in 1987. Its creation was controversial at the time, due to the displacement of villagers from five settlements and the disruption to wildlife.
But, this year-round water source has bolstered the wildlife population, made illegal logging logistically challenging and provided a setting for eco-friendly floating lodges.
The best way to explore the park is through a two- or three-night experience, which includes a stay in one of the floating lodges. As part of the range of activities on offer, you can choose to kayak across the lake, hike to hidden waterfalls and take a longtail boat deeper into the park. We can arrange this as part of a small group or with a private guide.
Elephant Hills runs two properties within the park, a tented camp and floating rainforest camp, both set within the park. It also looks after a group of ex-logging elephants, that can't be rehabilitated back into the wild.
As a guest, you can spend a day watching the elephants bathe and play, as well as help to prepare their food and meet their keepers.
Khao Sok is a two-hour drive from Phuket International Airport, and combines well with a beach stay in Phuket, Krabi or Khao Lak.
Best time to visit Khao Sok National Park
The best time to go to Khao Sok is during Thailand's east coast dry season from December to April. It's possible to visit during the transitional months of May and November, if you can suffer the occasional shower. The green season, from June to October, is best avoided, as trails become slippery and there's rain most days.