North of Koh Samui, the small island of Koh Phangan was discovered by backpackers seeking inexpensive beachfront accommodation and a lively party scene.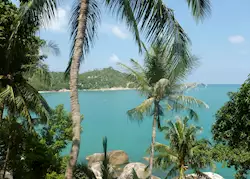 The backpackers were drawn to the Full Moon Parties that still take place around the over-populated hub of Haad Rin.
The less visited north eastern shores of the island have managed to retain their character and charm, and the first few upmarket resorts have opened here. These make the most of the emerald waters and brilliant white sands as well as the wonderfully laid-back atmosphere, whilst ensuring a very private experience.