At the height of the Siam Kingdom in the 17th century, Ayutthaya was the largest city in the world. The capital of Siam for just over four centuries, the city strategically stood at the confluence of three rivers, laid out in a systematic grid of roads, moats and canals. Ransacked by the Burmese in 1767, Ayutthaya is now a crumble of ruined monasteries, timeworn Buddhas and prang (temple) spires. Standing among it, you see enough surviving architecture to get an inkling of the city's past grandeur.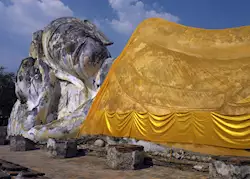 Ayutthaya came to prominence just after the fall of Angkor, taking its place as Southeast Asia's hub of global diplomacy and commerce. The royal court at Ayutthaya regularly welcomed merchants and ambassadors from courts as diverse as the Palace of Versailles, and imperial Japan and China.
Now a UNESCO World Heritage Site, the ruins are slowly being embraced by the roots of jujube trees (a relative of the date tree, which Siam kings believed to be lucky). But, this isn't a desolate place. The Buddha statues are still draped in saffron robes, temple altars are bright with lotus flower offerings and monks grant blessings.
The sheer, rosy brick ruins can look similar from afar and are best interpreted with the help of a guide. Archaeological research at the site has recorded 67 temples, which range from small piles of brick to Wat Yai Chai Mongkhon, a monastic complex of temples whose main chedi (bell-shaped tower) dominates the skyline.
Wat Mahathat has become known for its Buddha head encased in the serpentine roots of a jujube tree, but if you visit the northwest prang you'll also see some of the earliest Ayutthaya mural paintings.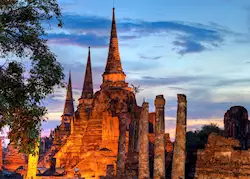 The 14th-century Wat Phra Si Sanphet lies in the grounds of the Royal Palace (of which little survives), with three conical chedi protecting the ashes of former kings.
It's easier to enlist a mode of transport to see more of the spread-out site. Kermit tuk-tuks, brightly painted auto-rickshaws that look a bit like a dodgem car, are unique to the area and you can hire them for the day.
Guided cycling tours also help you cover a lot of ground, taking you close to the city's ancient walls and parks in the process.
Ayutthaya is an easy two-hour drive or train journey from Bangkok. One of the most interesting — and, as it was the transport choice of Siam kings, most apt — ways to arrive is by boat on a Bangkok to Ayutthaya cruise. You start at Bang Pa In, the 18th-century summer palace of the King of Thailand, a surreal mix of cream neoclassical European architecture and traditional golden, multi-tiered Thai design.
From here, you board a rice barge and cruise along the Chao Phraya River, passing the Catholic church spires of an old Portuguese village.
Three rivers encircle Ayutthaya, effectively making it an island. Foreign merchants and traders weren't allowed to settle there, so little satellite villages popped up to house Japanese, Chinese and French immigrants. You can peer out across the settlements as you get closer to Ayutthaya, before disembarking to explore.
Best time to visit Ayutthaya
Generally, the best time to go to Ayutthaya is between November and early April, when it stays relatively dry. Temperatures hover at around 29 C (84 F) year-round, with the coolest months being December and January (although they rarely dip below 20 C, 68 F).