Krabi Town rests on the banks of the Krabi River and, despite its collection of cafes, trinket stalls and hotels, has managed to retain its ambience as a traditional fishing port. With its own airport, the town acts as a transport hub, supplying boat trips, snorkeling tours and diving expeditions. Overlooking the town is Khao Khanap Nam, a pair of hills that rear above the water like two sharks.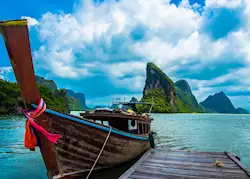 Most of Krabi's hills and islands are honeycombed with caves and tunnels, many of which are decorated with paintings. Most of the sites you can visit are painted with red-and-black stick figures, crocodiles and lobsters. Reliably dated back to Neolithic times, they show how these communities documented their daily lives. Other caves have more elaborate artwork depicting Chinese sailing ships and longtail boats, which are considered a few hundred years old.
The best way to see the paintings is on a guided canoeing tour, where you can paddle from island to island. To reach most sites (many of which are now protected), you navigate coastal mangrove forests and float through winding cave tunnels. As well as the paintings, many caves have twisting formations of stalagmites and stalactites.
Outlying islands
Many of the other islands also warrant exploration, which you can do by traditional longtail boat on a private tour. Koh Kai (Chicken Island) is named after its poultry-shaped rock formation and, at low tide, you can wander along a sandbar to nearby Tub Island. A curve of healthy coral lies off the island's west coast, where you'll often see shoals of striped angelfish and sandbanks studded with starfish.
For some of the best snorkeling and diving, travel farther south to the Phi Phi National Marine Park, particularly Ko Phi-Phi Leh island. Here, you can swim in crystal-clear water under the gaze of sheer limestone cliffs.
For something more active, Krabi is one of the best places in Thailand for rock climbing, with a range of routes from beginner's level to the more advanced. Take a guided lesson at Railay Beach and you can try rappelling, abseiling and top-rope climbing — all with views across the Andaman Sea.
Phang Nga Bay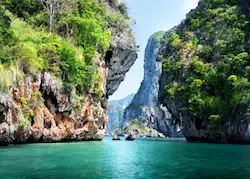 From Krabi, you can visit Phang Nga Bay for the day, a sweeping collection of forested wetlands, coral reefs, mangroves (the largest in Thailand) and limestone islands that poke out of the sea like giant teeth.
Much of the bay falls within Ao Phang Nga National Park and has stayed free from development. You will see the occasional stilted fishing village — good places to stop for a freshly grilled seafood lunch.
Some areas of the bay can get busy, so it pays off to take a private boat tour out to the lesser-visited regions (of which there are many). Cruising between the vertical limestone cliffs, you can stop to venture into the water, seek out hidden lagoons or stroll along the secluded coves. Many boats come equipped with kayaks for you to use to explore caves or the coastal mangrove forests.
Best time to visit Krabi
Krabi enjoys a year-round warm, tropical climate. January to March tends to be the driest season with calm seas and moderate temperatures — although this is also the busiest. Late March to April can be occasionally a little cloudy but much quieter. Rainy season is from May to October, although if you're prepared for a few showers and cooler temperatures, hotels are very good value and the beaches peaceful.