Amphawa is a small town in the province of Samut Songkran, two hours in a car southwest from Bangkok.
Samut Songkran has the delta of the Mae Klong river at its heart and thanks to this has always been a very fertile area, supplying fruit and vegetables to the rest of Thailand. In recent years, thanks in part to royal intervention, the area is focused on organic farming techniques.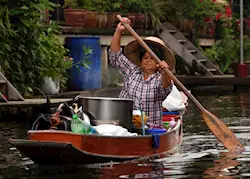 Other attractions include possibly the best floating markets in Thailand and remote temples. Lush plantations and sleepy towns are typical of the area, which is only just starting to make a name for itself as a tourist destination.
A stay here combines perfectly with either Bangkok or Kanchanaburi, being just two hours from both by car. Amphawa is perfect for clients who wish to get under the skin of Thai culture without having to incorporate significant extra time into an itinerary.
Just one night here will add a different dimension to any itinerary in Thailand and you will see very few western faces during your time here!