Chau Doc is a bustling Delta town on the banks of the Mekong River close to the Cambodian border. It is dominated by the towering Sam Mountain, one of few areas of significant topography in the delta.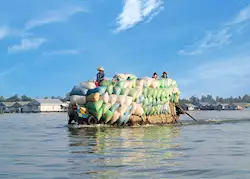 The river here is a hive of activity with vast numbers of boats of all shapes and sizes constantly passing by. The town also has an interesting little square where you can try the superb local noodle soup day and night.
The central market is also worth a look, as it is full of fresh produce brought in from the surrounding fertile lands.